"We are God's masterpiece, created anew in Christ Jesus to do the good things he has planned" (Ephesians 2:10)
Welcome to the home of Kirkhill and Kiltarlity Churches. We are two rural congregations in the Highlands who are committed to living in the love of Jesus and making that love known to all in our communities. We are a family who love having fun together and honouring God in the way we live.
Our Sunday morning services are at:
10am in Wardlaw Church in Kirkhill
11.30am at Kiltarlity Church in Kiltarlity
We meet jointly for Café church on the first Sunday of the month during school term time
Listen to recent sermons.
Download the latest edition of The Anchor (Christmas 2017).
Services in December
Sunday 3rd Dec: Café Church joint service at Kiltarlity Village Hall 11.30am.  No Sunday Club family service
Sunday 10th Dec: Services as normal Kirkhill 10am; Kiltarlity 11.30am. Sunday Club both services
Sunday 10th Dec:  "Connect & Encounter" Life group. Kirkhill 6pm
Thursday 14th Dec: Carol service Kiltarlity Village Hall 7pm
Sunday 17th Dec: Services as normal Kirkhill 10am; Kiltarlity 11.30am. Sunday Club contributions to both services
Sunday 17th Dec: Messy Church  4-6pm Kirkhill Church; fun for all the family; children bring your responsible adult!
Sunday 24th Dec: Services as normal Kirkhill 10am; Kiltarlity 11.30am. No Sunday Club; family services
Sunday 24th Dec: Watchnight services 11.30pm at Kirkhill and Kiltarlity
Sunday 31st Dec: Services as normal Kirkhill 10am; Kiltarlity 11.30am. No Sunday Club; family services
Services in January
Sunday 7th Jan: Joint family service at Kirkhill 10am with informal communion. No service at Kiltarlity.
Message from our Minister – Rev. Jonathan Humphrey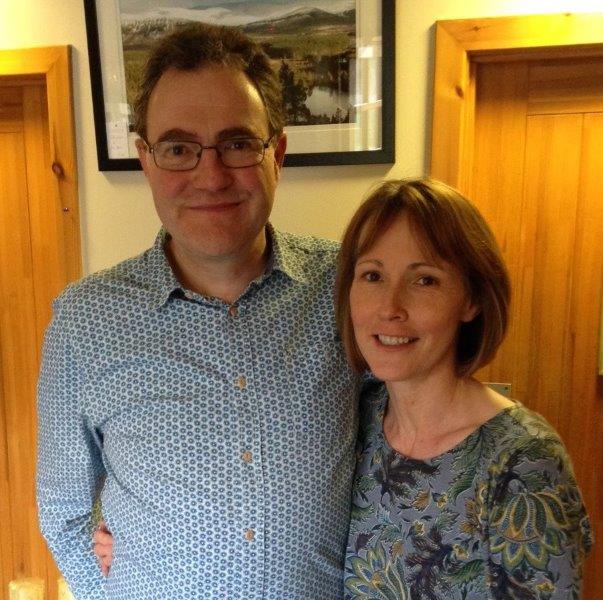 Dear Friends,
I am especially grateful this year for the hard work that our editorial team have put in to our Christmas Edition of the Anchor so that it was completed in time.  Sheila was up to the small hours editing, and despite some time in Raigmore getting a hip replaced, Ellenor was heavily involved in gathering material.  And last, but not least, Frances who keeps everything on the road and who answered the call this year to eldership whilst continuing to be our Session Clerk at Kirkhill. Thank you Frances.  In fact, as you read through this issue of the Anchor you will see that there has been so much activity in our churches this year, and so many people getting involved and taking a lead where required.
Whilst it is great to see and hear about so much activity, I have been struck recently by the passage in Luke's gospel, "Now Jesus himself was about thirty years old when he began his ministry. He was the son, so it was thought, of Joseph, the son of Heli." (Luke 3: 23). Why did Jesus have to wait so long until he could start his ministry, get active, and follow the Father's lead in preaching, teaching and healing?  The answer it seems is that he was born into "the system".  In the Jewish religious culture/system, you became a Rabbi in your 30s and Jesus followed that pattern. He started in the system. But he didn't get stuck within that system, where salvation and access to God was regulated by an ever more complex set of oral and written rules and regulations which did nothing more that just highlight sin, shame and weakness.  Jesus came to transform, fulfill and draw a line under this old system, and to bring in the new system – the Kingdom of God (Mark 1) – a "system" based on grace and love, and the manifest presence of God amongst his people.
In his letter to the church in Colossae, Paul says that we, "share in the inheritance of his holy people in the kingdom of light. For he has rescued us from the dominion of darkness and brought us into the kingdom of the Son he loves" (Colossians 1: 12-13).   Living in the Kingdom, means we live in the joy, freedom and power of the Holy Spirit (Romans 14: 17), not by following a set menu of religious activities for the sake of it, or because that's just the way we have always done it.
Christmas is a good time to re-evaluate which system we are serving.  What motivates me to service and the activities I get engaged in? whether that be the things I do around church, or in family or work setting.  Is it a love for Jesus, and His Kingdom that moves me to action?  My personal testimony in this vein relates to an extended family party we had recently. The amount of organisation and work required to feed and house 18 people for a weekend is significant and in the past the logistics of such an event would have dominated our thoughts and actions. This time, however it was different.  We decided to pray and give God the weekend.  We prayed for His help to organise us and for Him to shine through all the jobs that needed done.  There was a wonderful atmosphere, the organisation went well, but didn't dominate, and many conversations touched on matters of faith and the heart.
This Christmas, I would encourage us all to just take a moment to do a "Kingdom audit" on our activities and our thinking. Ask Jesus to highlight where our motivations might have got a bit misaligned and where we might unintentionally be serving the wrong system. Soak these next few weeks in prayer, and be prepared for some God moments and surprises!
Wishing you all a very Happy Christmas and every blessing for 2018.
Yours,
Jonathan (New address: 4 Courtyard Cottages, Lentran, IV3 8RL. Phone 07587 186424)