Message from the Interim Moderator – Rev. Peter Donald
Dear friends,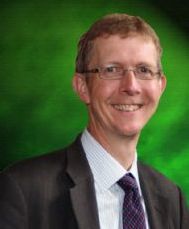 There was a wise word at the opening of a church conference I attended recently: although people do respond where there is need, it is vision which truly gets people going. Jesus' story of the Good Samaritan is utterly important, for no person for whatever reason should be passed by and uncared about; but Jesus' lead takes us even further than that.
The accounts we have of Jesus' adult work begin around the witness of John the Baptist. There is a basic message that left to our own devices, we may lose the plot.  It happens to religious people and it happens to anyone being carried along by the tide of the times.  We do not entirely appreciate what matters, for our living and for the sake of others. And so John baptized "for repentance," i.e. so that people would admit their need to turn around. There are ways of thinking we need to leave behind, attitudes, ways of speaking, and ways of behaving. And then Jesus came to baptize "with the Holy Spirit and fire."  He blazed a trail himself, showing so clearly what it meant for a human being to be Spirit-led, Spirit-aided, powerful in words and in action. And he fired his followers, to believe more in themselves and more in God; to see further, to listen more, to understand what all is possible where we truly give God our attention.
Needs are conspicuous but the energy builds with vision! Kirkhill and Kiltarlity people may and should see what they believe in and what part they themselves can play in moving towards that. Or as I would prefer to put it, there is someone to believe in who wonderfully draws us into his life. And the force of Jesus Christ doing that is that we find ourselves, as we say, "in him." In ordinary life we all know how a child can blossom if given the best encouragement and stimulation and love. A person can be brought out of his or her shell when he/she meet the right partner for life. So it is with the encounter with Christ and the faith journey which follows on.  Our humanity can grow. There is a source of joy and peace which will take us through even the sternest trials. And rather than let time tick by, be challenged by God to make something of your time, to do something with your gifts and talents, to put yourself out there!
Easter is not so far away and I would be delighted to meet with anyone who has never been baptised and who would like to be, or who, baptised as a little child, would like time with me and perhaps others to talk head on about what faith is about.  Please do get in touch, either directly or by asking someone to let me know you're interested. Is it time to see something more and to hear something new?
Yours,
Peter