"We are God's masterpiece, created anew in Christ Jesus to do the good things he has planned" (Ephesians 2:10)
Welcome to the home of Kirkhill and Kiltarlity Churches. We are two rural congregations in the Highlands who are committed to living in the love of Jesus and making that love known to all in our communities. We are a family who love having fun together and honouring God in the way we live.
Our Sunday morning services are at:
10am in Wardlaw Church in Kirkhill
11.30am at Kiltarlity Church in Kiltarlity
Listen to recent sermons.
Download the latest edition of The Anchor (Easter 2017).
Services in April
Sunday 2nd  April: Services as normal with Sunday Club, Kirkhill 10am; Kiltarlity 11.30am
Wednesday 5th April: Easter School Services – Tomnacross Primary School at Kiltarlity Church 10am; Kirkhill Primary School at Kirkhill Church 2pm
Sunday 9th April: Café Church joint service in Kiltarlity Village Hall 11.30am – fun for all the family.  No service at Kirkhill
Good Friday 14th April:  Drop in for prayer and reflection at Kirkhill church 12 noon- 3pm
Sunday 16th April: Easter Day services at Kirkhill 10am; Kiltarlity 11.30am. NO Sunday Club
Sunday 23rd  April: Services as normal Kirkhill 10am; Kiltarlity 11.30am. NO Sunday Club.  Andrew Morrison taking services
Sunday 30th April: Services as normal with Sunday Club, Kirkhill 10am; Kiltarlity 11.30am.  Bruce Ritchie taking services
Advanced Notice
Sunday 7th May: Café Church joint service in Kirkhill Church 10.00am – fun for all the family.  No service at Kiltarlity
Message from our Minister – Rev. Jonathan Humphrey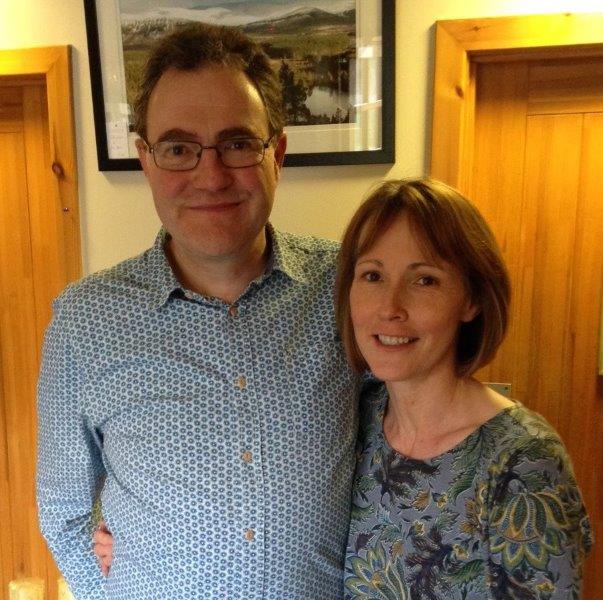 Hello again ……..
I hope you enjoy reading through the articles in the latest issue of The Anchor, and I would like to thank our editors for all their hard work in collating, typing, and preparation. We have a bumper issue this time!
In the last week of March I entered my third year of ministry here at Kirkhill and Kiltarlity. Yes, really! It seems hard to believe that Kate and I have been here for over two years. It got me thinking about the time I was considering applying for the charge at K&K and read the following scripture on the Parish Profile from Paul's letter to the church in Ephesus.
"For we are God's masterpiece. He has created us anew in Christ Jesus, so we can do the good things he planned for us long ago." Ephesians 2: 10
This passage starts with the word "For" which means basically "because of what came before". And what came before in the first two chapters of Ephesians is the core of the Easter Message – our redemption by the blood of Christ shed on the cross; the forgiveness of sins (Eph 1: 7); God's great love for us demonstrated by making us "alive together with Christ" saving us by grace and raising us up with Christ (Eph 2: 5). Faith in this wonderful grace gift of God is what saves us, not the result of our works. We are saved FOR doing good works, not By doing good works. Also we are not just saved from the failings of our past, there is a hope that we are called to – to walk out the glorious inheritance given to us in Jesus, drawing on His power to realise this inheritance (Ephesians 2: 18) namely the expansion of the Kingdom of God in our area, and the involvement of future generations in this work. As the Psalmist declares….
"Our children will also serve him. Future generations will hear about the wonders of the Lord. His righteous acts will be told to those not yet born. They will hear about everything he has done." Psalm 22: 29-31
Over these past 6 months K&K have been working with Rev Bruce Ritchie and the Presbytery's Congregational Review Committee to complete our Local Church Review (LCR) and our specific plans and goals for the next 5 years. These plans are in the process of being approved by Presbytery and can now be downloaded from our website (paper copies will be made available soon). My hope and prayer is that this work will form the basis of the growth and renewal that our churches need in order to embark on the next stage of our life and witness.
In the coming months, as part of a teaching series entitled "Growing the Church, I will be extending an invitation for us all to consider how we might get involved in bringing our 5 year plans to fruition so that… "we can do the good things he planned for us long ago" and generations now and to come "will hear about everything that He has done".
Wishing everyone every blessing for Easter 2017
Jonathan